More recipe requests prompted this blog post.
I attended a wonderful Forest Gardening course at the weekend, hosted by Kintaline Farm and run by Ludwig of Earth Ways. These sort of thing usually involved shared lunches, and lots of tea and biscuits which can be a bit of a problem for me as I don't eat processed sugar.
I took along some sweet treats to share, making sure I wouldn't miss out and guess what? A few people asked for the two recipes, so you can find them below. I have noted the number of teaspoons of sugar per recipe. In case you don't know the NHS in the UK recommends no more than 30g or about 7 1/2 tsp of sugar per person per day for anyone over 11 years.
Coconut Crack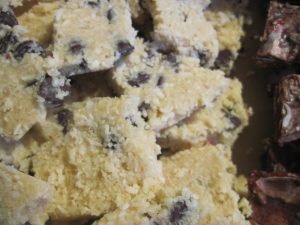 Credit for this recipe goes to Kelly Brogan, you can find it in her book called A Mind of Your Own, which I highly recommend generally and specifically if you experience depression or any other mental health issue.
Everyone I've given Coconut Crack to has loved it, I hope you do too.
Ingredients:
1 cup unsweetened shredded organic coconut
1/4 cup maple syrup
2 tbs coconut oil
1/2 tsp vanilla extract
1/8 tsp sea salt
1/4 cup dark raw cocoa chips or nibs ( sugar free)
Whizz all the ingredients except the cocoa chips in a food processor till well mixed. I like to do it till the coconut breaks down a little bit. Stir in the cocoa chips and spread the mixture firmly into a glass dish. I usually make it at least 1/2cm thick, it depends on the size of the dish you use.
Place in the fridge for about an hour then cut into pieces. The recipe says it makes 6-8 bars I prefer to cut more smaller squares.
The amount of maple syrup in this recipe equates to about 10 1/2 tsp total so you can work out how much sugar you have depending on the number of pieces you cut.
Raw Gooey Nutcake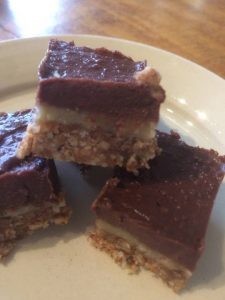 This is a cobbled together recipe I felt inspired to make and it works, hurrah!
Bottom layer:
 2 1/2 cups of ground nuts –  I use almonds.
 1/4 teaspoon ground cinnamon – you can add more or other spices depending on your tastes.
 1/4 cup honey  – you could use maple syrup instead.
1/4 cup of melted ghee – you could use butter or coconut oil instead.
Whizz together in a food processor, press into a glass dish about, 1cm or so thick.
Middle layer:
I generous cup of cashew nuts
1/2 tsp vanilla extract
1 tsp honey
water to mix.
No need to wash out the food processor just add the cashews, honey and vanilla and whizz till the nuts are well broken down. Then carefully add a little water at a time till you get a thick smooth paste. Spread this paste over the nutty base, and refrigerate while you make the next layer.
Top Layer:
1/2 cup almond butter, you could try other nut butters.
1/4 cup coconut oil, you could use butter or ghee.
1 tbs honey or maple syrup.
2 tbs raw cocoa powder
almond milk to mix – you can use any milk of your choosing.
Again no need to clean out the processor between layers, Add all the ingredients except the milk and whizz. This will form a very thick paste to which you add milk till you get a spreadable but still thick consistency. Spread this over the cashew nut layer. If the cashew layer feels too soft refrigerate it for longer before spreading the cocoa layer on top.
Refrigerate this cake until ready to serve then cut into approximately 3cm squares. Beware it can get very gooey and soft if left in a warm place so preferably serve cold and store in the fridge.
The amount of honey in this recipe equates to about 12 teaspoons so again you can work out how much each piece contains depending on how many squares you cut.
To find out more about sugar and low sugar treats check out these posts:
Sugar – tips tools and truth to help you change your relationship to the white stuff.