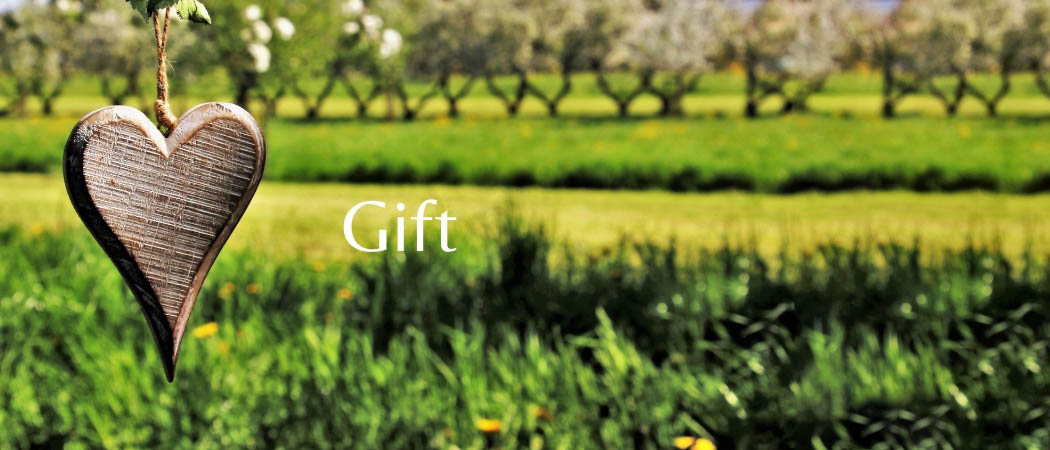 "How do we change the world? Change the story."

Charles Eisenstein
Exploring the gift
Our modern consumer society is gradually monetising everything. Accompanied by aggressive marketing and manipulation techniques these economics create artificial scarcity, illusions of worth and have distorted what it means to live in abundance. A price is put on everything which then controls availability and access; some become haves and others have nots.
I feel fundamentally uncomfortable with this model. To me it is part of the whole mess we are in as regards human life on earth and the massive disconnection from nature. We are trashing our home with this model and I needed to find an alternative way of offering my work in the world.
Working in the gift economy is about creating a new kind of relationship which reaches beyond mere transaction and exchange. It is rooted in the idea that what I have to offer cannot be solely measured by a blanket monetary value based on what others charge, what I believe I am worth or what the market dictates.
In this 3 minute film about Pacific Salmon we discover the worth of salmon not only to the great bears who feast but also to the trees. Who'd have known! This film touches on the depth of interconnectedness operating in our world. The gift economy is founded on this understanding. There is a silent recognition about the interconnectedness of all things, an acknowledgement of the value and contribution we can all make when we express our gifts in the world.
My gift
What I offer are individual coaching sessions and various group workshops and courses designed to help people practice deeper and more radical self care in their lives. You can read more about what this means here.
These gifts emerge from my own life journey coupled with over 30 years of personal therapeutic experience and professional training. To offer these gifts I have to cover the costs of maintaining this Radical Self Care Coaching Practice. Professional fees, insurance, online platforms, supervision, CPD and on-going training all have to be covered before I can contribute to my own life costs, dreams and desires.
In order to make these gifts I spend time preparing for sessions, designing and developing the course and workshops, researching, writing up notes, creating handouts and more. There is a back story to every offering made.
The gift I make is not a freebie. It is my precious offering, a way to be of service in the world, it has value.

Your gift
To honour this you are invited to make a gift that feels right to you, given:
Your desire to support Mairi in her life and work in the world.
It may feel uncomfortable engaging with this way of working, however with a little effort the gift that feels right for you to make will become apparent. If considering a financial gift here are some questions to help:
1. How much would you be able to offer to help support Mairi in her life, to meet her material needs?
Go up until you reach some discomfort, which is a way of intuitively finding over-generosity. Then slowly count down until you reach further discomfort which indicates under-generosity. Now you have a range from which you can comfortably gift.
2. If you were to offer that, are you still able to care for yourself and those who are dependent on you?
If your financial means are limited, then you may need to choose a token amount or to gift in some other way.
3. If you were to offer that can you do it wholeheartedly?
Non-financial gifts
Not everyone is in a position to make financial gifts, or they find themselves moved to gift in some other way. What is that? Please take time to consider what this may be and contact Mairi to let her know what you propose.

Making a gift
You can use the button below to make a gift using Paypal, or contact Mairi, for the information to make a bank transfer and to share details of the gift you wish to make. Please include a note along with your gift.
I offer my work as part of the gift economy to make it available to everyone no matter their economic situation. Those with capacity and abundance can gift generously, those with less can receive. I do however ask for a non-refundable deposit to secure a place: to indicate commitment.
Workshop deposits – £5 – £15
This all feels too uncomfortable:
If gifting feels awkward and uncomfortable and you just want to know what to pay. Here is a guide, please feel free to contribute something along this sliding scale.
Online workshops £15 – £75

Half Day workshops £25 – £75

Full day workshops £50 – £150

Single sessions £45 – £150

5 session block £225 – £750
"Changing our relationship to money is a side effect of working in the gift. We move from a relationship where money is seen strictly as an asset to accumulate, to the view that money is just another way of expressing gratitude."

Marie Goodwin

Further Exploration
If you would like to find out more about the ideas of the Gift Economy you can explore the links below.