My first attempt at growing chamomile for tea and this happens:
🌟💚🌟JOY IN A JAR🌟💚🌟

Joy in a Jar
OMG this makes me sooooo happy. I planted a teeny weeny wee chamomile plant in our polytunnel last year. It loves it in there and has totally taken off and spread like crazy.
Everything about growing chamomile has been restorative and regenerative.
Watching it spread, fascinating.
Observing the level of growth, incredible.
Waiting for the flowers, anticipatory.
Seeing them bloom, breathtakingly beautiful.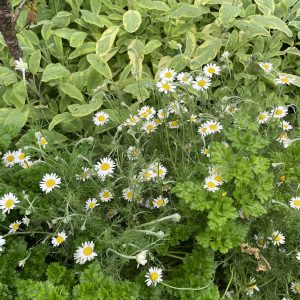 Herbal magic
Picking the flowers worked their relaxing herbal magic way before any tea making took place. It takes time to pick them, I had to slow down, let go of all the other demands and be with my body. Connecting with what my hands were doing brought me into the present moment.
This magic of plants is just some of what my herbal friend Clare of West Highland Herbal will teach you if you join one of her courses. There's so much more to be known than names and uses.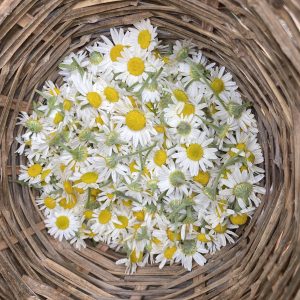 Radical Self Care
The intelligence inherent in nature is extraordinary.  The more I engage with, deepen my relationship to, let go and surrender in, the greater the gifts I receive back.
This is Radical Self Care the return to who we truly are, creatures of planet earth, dependent on, connected to – part of the interbeingness.
We are nature, yet we largely live as if this is not true. We have separated ourselves off, gone inside, away from, connected with a made up reality. Full of false promises, it purports to make us happier and healthier through the purchasing of even more; more things, more experiences, more, more, more.
Deep wisdom
The truth I am learning is that the real answers lie in less of all that is on offer from our sick modern ways and more of surrendering into the deep wisdom of Mother Nature.
The joy in a jar, this jar, is so vast. The impact of growing chamomile for tea goes so much deeper than the bottom of my cup. It connects me to everything I hold dear. Within this jar lie answers to my questions about the way we live, how to change, what my contribution might be, how I can best serve the healing of our world.
What does a shop bought jar tell us?
Radical Self Care is a deep process which invites us to engage in the flow of life in deeper more connected ways.
Connection ideas
Grow something, anything and spend time with it.
Notice how you react to different plants, do you get on?
Remember plants are our ancestors, our source is the same. We evolved together.
Be still in nature and observe.
If you like what I have to say please let me know in the comments below, or/and share it using the links below. Thank you.

Disclaimer: The views expressed here, in blog posts and on the website Change Is Always Possible are those of the author Mairi Stones alone, and do not represent the views of any associated bodies. We do not diagnose, treat, prevent or cure any disease or condition. Information provided in this blog is not intended to substitute advice, treatment and/or diagnosis from qualified medical and nutritional professionals. Take what you like and leave the rest.