A New Story
Here is a tale about connecting, collaborating and creating something new.
To change the world this sort of story is essential. Coming together and sharing creates a space where the new can emerge. Although simple it demonstrates beautifully the synergy of more heads being better than one.
During the recent Bookends Festival in Benderloch a great deal of chat was had over books, cups of tea and the With These Hands blanket.
With These Hands
This blanket was part of a spoken word performance piece by Sheila Quillen during the Bookends fringe week. Sheila provided an old blanket which she crafted into a shawl. During the Bookends Festival visitors were invited to lay their hand on the blanket and draw round them. They also wrote their initials. Then they or someone else could sew around the outlines.
Sheila has done such a blanket with her family, a beautiful piece to connect them all over time.
This blanket, once complete, is going to wing it's way to another Book Festival over the sea. Accompanying it will be a little book recording who the hands belong to and where they are from. Perhaps over in Nova Scotia their hands will be laid on our hands and long lost connections remade.
Wurdplay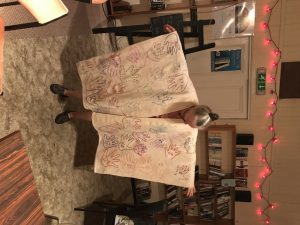 Sheila also performed at the open mic spoken word evening Wurdplay. This usually runs at the Rockfield Centre in Oban but decamped to Benderloch for the festival. It is run by local poet Jamie Livingstone.
The piece she performed is called "With the Best of Intentions". A particular line brought a knowing chuckle from the audience that evening and sparked much conversation later in the week.
"Pins just about to rust in the fabric."
Do you know that one?
As if by magic
As some of us sat sewing round other people's hands connecting across time and table the conversation turned to our own"pins about to rust" projects. We shared about what lay languishing in cupboards, some started decades ago "still waiting", as Sheila would say.
Then as if by magic before we knew it we'd agreed how wonderful it would be to sit again and share but this time with our own pieces. To bring all the undone, unfinished projects at home. Maybe, we pondered, we might actually finish them, if we do it together, here, with each other.
A new venture
And so it was born, a new venture, but what should we call it?
"Finish what you've started" piped up someone, and we all laughed and agreed that was it.
Or
"I've started so I'll finish." Thank you Mastermind that one had us all in stitches.
A joyful gathering
We settled on Finish What You've Started and promptly agreed when we would meet. That Thursday afternoon the process of completion began.
As I write I can still connect with the joyful feeling of being gathered with others in such a beautiful space and here are some of the reasons why:
One person had started knitting socks but couldn't turn the heel. Another loves turning heels and would happily just do that, so she showed her how.
Another brought a knitting kit she had bought but had never started and another seasoned knitter showed her how to cast on.
I took my knitting with half a sleeve to go, but I'd lost my place while increasing. Guess what? Said seasoned knitter got me up to speed no problem
Our seasoned knitter knitted with some super difficult wool which now explains why it was on offer in the charity shop.
Another person quietly painted.
Sheila made an amazing jacket out of an old shrunken arran sweater. I wish I had a photo, it's lined and edged and beautiful.
And yet another strung her frames for some holiday weaving.
The patchwork
But the most amazing for me was the patchwork tucked away decades ago. But what to do with this unfinished project? It missed her own children's beds and now the grandchildren's too.
As we gathered round this amazing work we heard how each piece belonged to some garment worn by the maker. Stories of the past held together but needing an ending.
One idea sparked another until a wonderful solution revealed itself. So now the patchwork can be completed, not as originally intended but as instead now as decoration on a duvet cover, still to adorn a bed.
A collaboration
So we continue, well in so much as we have our next date to gather.There are no rules, no timetables, no leaders or committee. It's a collaboration.
Bookends will book the hall and have a Bookends Blether Day.
Someone has made a poster.
Someone else copied it and sent it to me.
I'm writing this.
You just need to turn up.
Come and join us if you can, and if you can't then start your own Finish What You've Started gathering.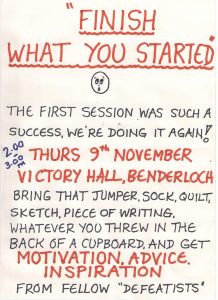 Connecting, collaborating and creating is where its at folks!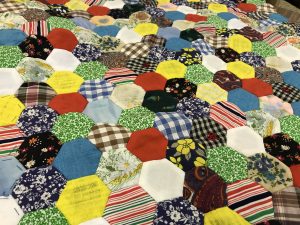 Together we can change the world. One meeting, one conversation , one action at a time.