Current Events
I am currently focusing on my writing and exploring Radical Self Care concepts and practices with a view to offering talks/workshops in 2020. If this is something of interest to you or a group or organisation you belong to please get in touch.
Alive and Connected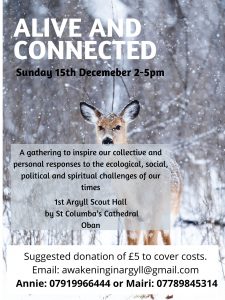 Next space:
15th December 2019
2-5pm
1st Argyll Scout Hall, Oban.
Every month my friend and colleague Annie Loughlin and I gift our time to facilitate a space based on the Work That Reconnects developed by Joanna Macy. Using experiential practices we travel through a spiral of practices which enables us to feel more deeply connected to ourselves, to others and to our planet.
We ground ourselves is gratitude which supports us to explore and honour our grief for the world.  This frees us to open to a wider perspective, to see with new eyes the world and our place in it. Finally we explore how to move forth feeling more energised and inspired to take action on behalf of all of life on earth.
Past Events